As the co-founder and Chief Marketing Officer of Orbit Media, Andy Crestodina, famously said, "It's not the best content that wins. It's the best promoted content that wins."
It's indeed true. A mindless content generation without a well-rounded content distribution strategy is like driving a Benz without the wheels: futile.
Many brands believe that the more content you create, the greater value you add to your marketing effort. Sadly, more content doesn't necessarily mean increased brand visibility. You need a solid content distribution framework to draw the audience's attention.
Keep reading this informative piece as we delve deep into an ultimate guide to content distribution with examples.
What is Content Distribution?
In short, content distribution is the method of nurturing and promoting your perfect piece of content to your audience through various media formats in different communication channels.
This means creating content and sharing it through various media channels such as your own website, social media networks (Facebook, Instagram, Twitter, LinkedIn, TikTok, etc.), paid ads, email newsletters, and other channels.
What's the Significance of Content Distribution?
Content distribution is the single most important component to increase brand visibility and drive organic traffic to your marketing efforts. It can help you gain a loyal social follower community, build solid brand authority, and drive more sales.
A well-articulated content distribution strategy can help you increase customer interactions and brand awareness and gain more backlinks to your website.
In other words, content distribution helps you reach out to the right audience with suitable content at the right time through the right channels, unveiling greater content marketing ROI.
What are the Most Valuable Content Distribution Channels?
Content distribution channels are the platforms where you share various kinds of content with a wider audience base.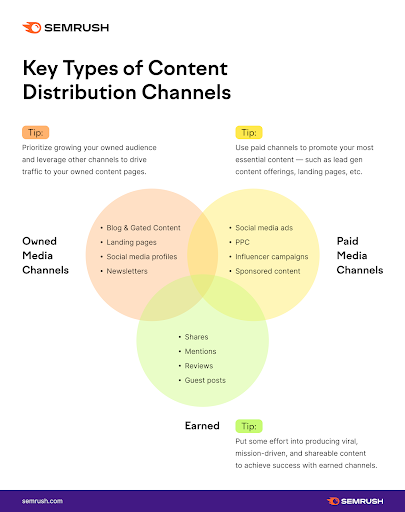 Although there are minute differences in all the channels, marketers divide distribution channels into three major categories: owned channel, paid channel, and earned channel.
1. Owned Channel
As the name suggests, owned channels are content-sharing platforms that belong to specific brands and companies.
There are various types of owned content distribution channels, such as blogs, apps, newsletters, social media platforms, landing pages, gated content, opt-in forms, etc.
For example, below is a newsletter from Moz.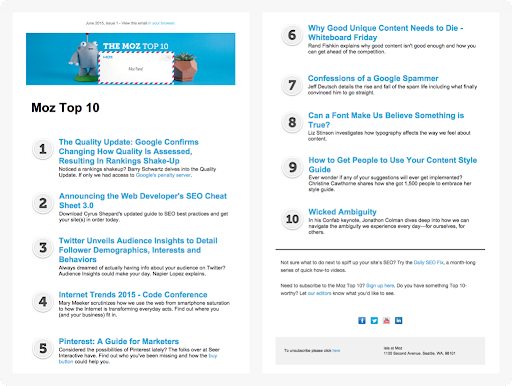 2. Paid Channel
Paid content distribution channels are when you pay an external service provider to put your content in front of your target audience.
One such channel is Bing Ads Login, which allows you to advertise your content on the Bing search engine. Other paid channels include social media ads (for example, Facebook ads), pay-per-click advertising, display ads, native ads, influencer marketing, sponsored content, affiliate marketing, etc.
Here is an example of PPC ads in Google: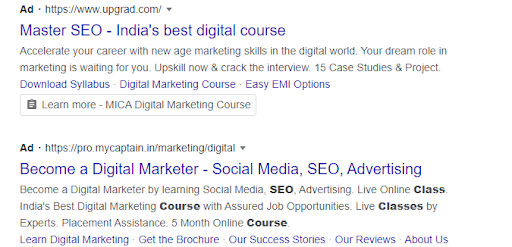 Here's another example of a Facebook ad: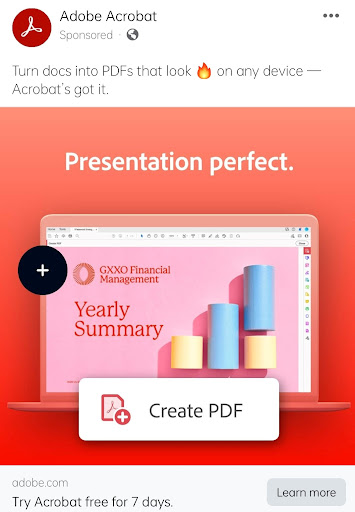 3. Shared or Earned Channel
Slightly differing from paid channels, a shared or earned content distribution channel is when an external party shares your content or writes content about your brand.
This includes social media influencers, independent bloggers, journalists, etc.
Guest posts, reviews, backlinks, and review sites are also considered shared or earned channels.
Here's an example of a review of Nike's shoes on a third-party website: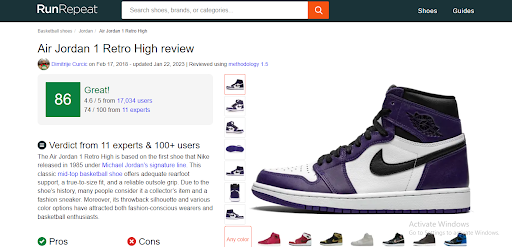 6-Step Guide to Content Distribution with Examples
1. Research Your Target Audience
Content distribution is not about introducing your content to any audience–it's your own audience. So, you can't create a content distribution strategy without knowing where 'your audience' are and what they are looking for (or expecting from you).
So, you must start by analyzing your prospect data to understand where your target audience would prefer to receive your content.
You can start by asking yourself a few questions:
Who are your content consumers?
Will they be interested in your product?
Where can you find a larger audience (which channels)?
What is their ideal channel for receiving your content?
You can also directly ask your pre-existing social media followers & customers, and website visitors to state their pain points, their expectations from your brand, and how they feel about your current content distribution methods.
Once you get answers to these questions, you can create your Ideal Buyer Persona based on their demographics (age, gender, income, location, purchase habits, and other custom fields). It will help you create more fruitful content promotion and distribution strategies based on their behaviors and preferences.
2. Look Into Your Existing Content Bank
Creating a brand new content distribution strategy doesn't mean you have to create fresh content from scratch.
Once you have got a clear idea of what your followers/website visitors/target audience wants, start by auditing your pre-existing content, and you will uncover a lot of redistributable content.
For example, if you have written an original blog post on 'How to Increase Website Traffic?', you can remodel it for a LinkedIn post or create a YouTube Short based on it. You can also create social media posts out of your existing blogs, long-form content, or any other content formats.
Not sure where to start? Conduct a content audit to see if you have existing content ready for distribution. It will save you time by helping you uncover promising, high-value content already at your fingertips.
Use Google Analytics to analyze what kind of content is best for different channels. It's best if you align your content creation and content distribution strategy to streamline the entire marketing flow.
Make sure you cover all effective marketing channels, update content regularly, and meet your external deadlines (for paid and earned distribution).
3. Choose the Perfect Distribution Channels
Choosing the right content distribution channels is way more important than the content itself.
So, which one to choose – earned, paid, or owned?
Based on your industry and niche, you may want to focus on owned and paid distribution channels simultaneously. For example, you may write content for Quora and Reddit and pay to promote your content.
You may want to stick to social networks such as Facebook, Instagram, Twitter, or, more professionally, LinkedIn. No matter what kind of distribution channel you choose, you must not neglect your own channels.
You should update your website, blog, and email newsletters, as these are inexpensive content distribution channels.
No matter what kind of distribution channel you choose, your content should be in line with your audience's interests and preferences. Check your campaigns' performance regularly and make sure you keep a balance between organic and paid content distribution.
Here's an example of a viral marketing campaign using pop culture memes: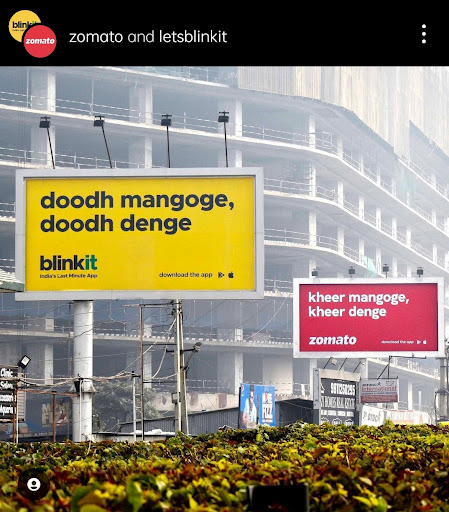 4. Decide Which KPI to Track
Once you decide on the content distribution channels, it's time to decide which KPIs to track. KPI or Key Performance Indicator gives you insights into your campaign's performance and where it's heading.
Not all KPIs align with all marketing channels. So, make sure you choose the metrics that align best with your marketing channel.
KPIs for various content distribution platforms should be specific, measurable, time-bound, relevant, and achievable.
For example, increasing 8x Instagram followers by the end of the year or generating 30 backlinks every month.
5. Create a Relevant Promotional Message
Customer engagement depends a lot on how you convey your promotional messages. Look closely into your Ideal Customer Profile, the environment, and customer demographics to create relevant promotional messages for behavioral targeting.
For example, in light of body positivity, the renowned lingerie brand Victoria's Secret revamped its products with the "What Women Want" campaign, replacing their iconic models with body-positive models.
To promote it, they also launched a podcast platform that features confident, strong and body-positive role models.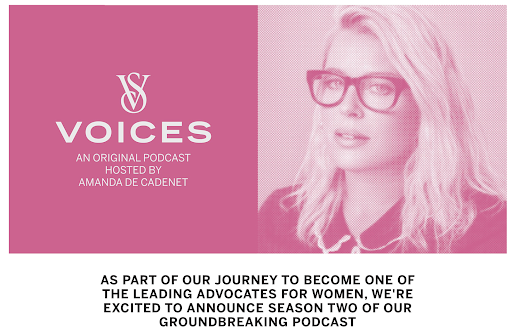 6. Analyze Performance Data
Your job doesn't end at distributing various content to various channels. It is very important to analyze each channel's performance data to create more effective campaigns, repurpose various types of content, and change channels.
You can use Google Analytics or Google Search Console to analyze your social media platforms' performance and email marketing solutions such as Smartlead to launch and track the performance of your campaigns.
Tools and Software for Different Types of Content Distribution
Smartlead.ai – All-in-one cold email marketing solution. Offers email list warmups, A/B testing, unlimited email addresses, master inbox, email verification, email personalization, and data analysis. It also offers a free email signature generator.
HubSpot – Comprehensive content distribution tool for SEO (search engine optimization), blog content, and social media.
Smartwriter.ai – AI-powered email content writer with personalized first lines for better targeting.
CoSchedule – blog editorial calendar tool and content management suite.
Taboola.com – content recommendation and discovery platform that gives you new content distribution ideas to generate content and chalk out content strategy.
ChatGPT – AI-powered chatbot to generate content and frame content marketing strategies and distribution methods.
MeetCortex – AI-based analytical platform to identify which relevant content works and which doesn't.
NinjaOutreach – influencer outreach for all niches.
Goodbits.io – transforms blog posts into newsletters.
LinkedIn Publishing – direct publishing on LinkedIn.
Wrapping Up
There's no surefire method of choosing the perfect content distribution technique. That's why creating way too much content doesn't lead you anywhere if not strategically distributed.
A content distribution strategy depends on a few things: industry, niche, audience base, company size, customer demographics, etc.
As a content marketer, make sure you take all these points into consideration and create the perfect content distribution strategy that suits your business. Do not shy away from expanding distribution channels. But make sure you make a good balance between paid and organic mediums.
Use automation as much as possible to reduce the wastage of human talent and analyze results to create a foolproof content distribution strategy and maximize ROI for your distribution efforts.